With the increasing trends, carpet tiles are becoming very popular to install at a number of places. Anyone who wants to opt for this versatile flooring does research about it. People have many Common questions about carpet tiles to ask before making an informed decision whether to choose this flooring or not. So, to make you clear about basic inquiries about carpet tiles I'll explain most frequently questions about carpet tiles.
Let's consider the 7 common questions about carpet tiles!
Before installing any type of flooring, people do search for the most commonly asked questions. So, if you are also searching for the most Common Question About Carpet Tiles Abu Dhabi then go ahead to read a brief explanation about commonly asked carpet tiles queries.
1. Do you need an underlay for carpet tiles?
Carpet tiles are generally manufactured with built-in underlay so, for normal circumstances, no additional underlay is required. For more noisy rooms and commercial football or basketball courts using carpet tiles with an acoustic underlay is a good idea. You can easily reduce noise by using it. If you want to install carpet tiles over underfloor heating systems, you may need an insulating underlay.
2. Can you install carpet tiles on a tile floor?
Before initializing the carpet tiles installation process over a tile floor, you need to make sure that the tile floor is smooth, solid, sound, and level. In other words, the floor should be clean, flat with no bouncy areas or broken tile floor. Remember, when you lay a carpet tile, any defect on your tile floor may be displayed. You can easily install carpet tiles on tile flooring and it'll also hide the grout lines giving a finishing look to the floor.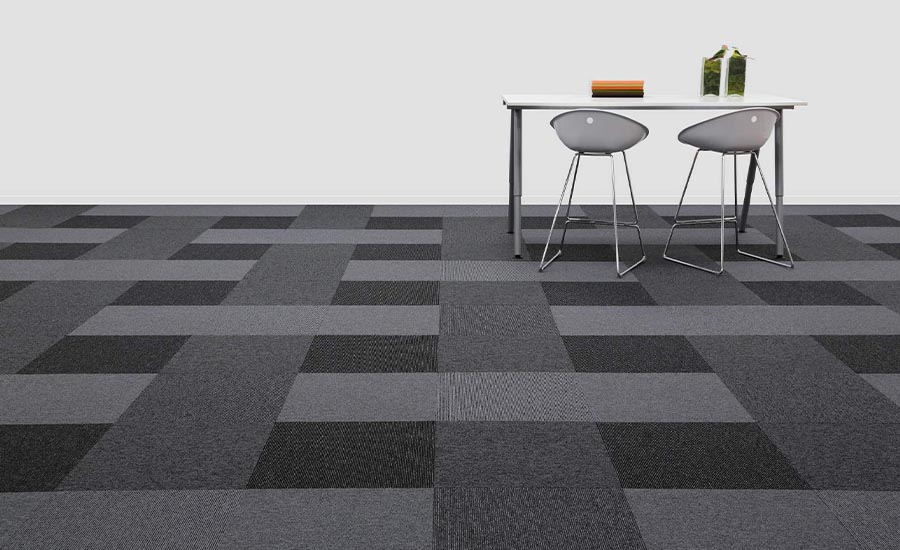 3. Can you lay carpet tiles over existing carpet?
This is probably one of the most common questions about carpet tiles that people frequently ask. It is recommended to remove the old carpet before laying a carpet tile. If the old carpet is sticky on the floor and is difficult to remove, there may occur some issues. Most importantly, if the height of the carpet and tiles are too high, the door may not be open. This means that the carpet tile can only be laid on a low pile carpet. If the existing carpet is worn the carpet floor may appear uneven on the floor. If heavy foot traffic wears down the carpet, after a while the floor may sink to areas that are easy to step on. These problems usually mean that it is best to get rid of the old carpet for proper new carpet tile flooring.
4. Are carpet tiles waterproof?
Standard carpet tiles are not waterproof, but they do have a bit of water resistance, which means they can safely lay in the outside or entrance area. As long as the spill is rapidly erased, the tile should have no water damage. Experts avoid installing carpet tiles in high moisture areas like kitchens or bathrooms. waterproof carpet tiles are also available at Greengrass. ae. These have a waterproof lining that keeps moisture out of the carpet tile and also suitable for the basement.
5. Are carpet tiles hard-wearing and long-lasting?
This question can only be answered if you know the quality of carpet tiles. Cheap carpet tiles are thin and not suitable for heavy foot traffic areas. But, more sturdy and heavy-duty carpet tiles are available in the market that can be installed in the office, restaurant, classroom, and other busy places. For heavy use, it is recommended to install stain-resistant tiles. The advantage of carpet tiles is that you can replace old carpets with new ones without touching the overall flooring. Therefore, it is best to buy spare tiles when purchasing the carpet.
6. Is carpet tiles installation cost-effective?
The total cost of carpet tiles is the cost of the tile, plus the installation cost. Among the most common questions about carpet tiles, carpet tiles installation cost is on top as it varies in patterns. Carpet tiles are comparatively easy to install than other kinds of flooring & at Greengrass. ae you can get budget-friendly carpet tile installation rates. You can save your money by installing carpet tiles by yourself, but if you are not skilled enough, then better to leave it on professional fighters.
7. Are carpet tiles eco-friendly?
If you are worried about using environmentally friendly products and reducing carbon emissions, find a carpet tile made from natural fibers such as cotton, wool, or jute, or choose tiles that are crafted from recycled material. Carpet tiles are perfect eco-friendly flooring as it leads to less waste. If any of the tiles are damaged then you just have to change that tile without disturbing the overall flooring. Carpet tiles come with adiabatic properties that save energy.
Tiles laid on floor heating driven by solar panels are an environmentally friendly and energy-saving solution for building heating. Some of the adhesives used to install carpet tiles are not environmentally friendly and pollute the air, but other environmentally friendly glues can be used.
Conclusion!
Carpet tiles are considered the best cost-effective flooring solution. Now, that you have learned about the most common questions about carpet tiles, Choosing this flooring can be equally beneficial for residential and commercial areas. Moreover, you have wide options in terms of colors, design, style, texture, and patterns to choose from. Choose carpet tiles for adding an attractive look to your space.